This store requires javascript to be enabled for some features to work correctly.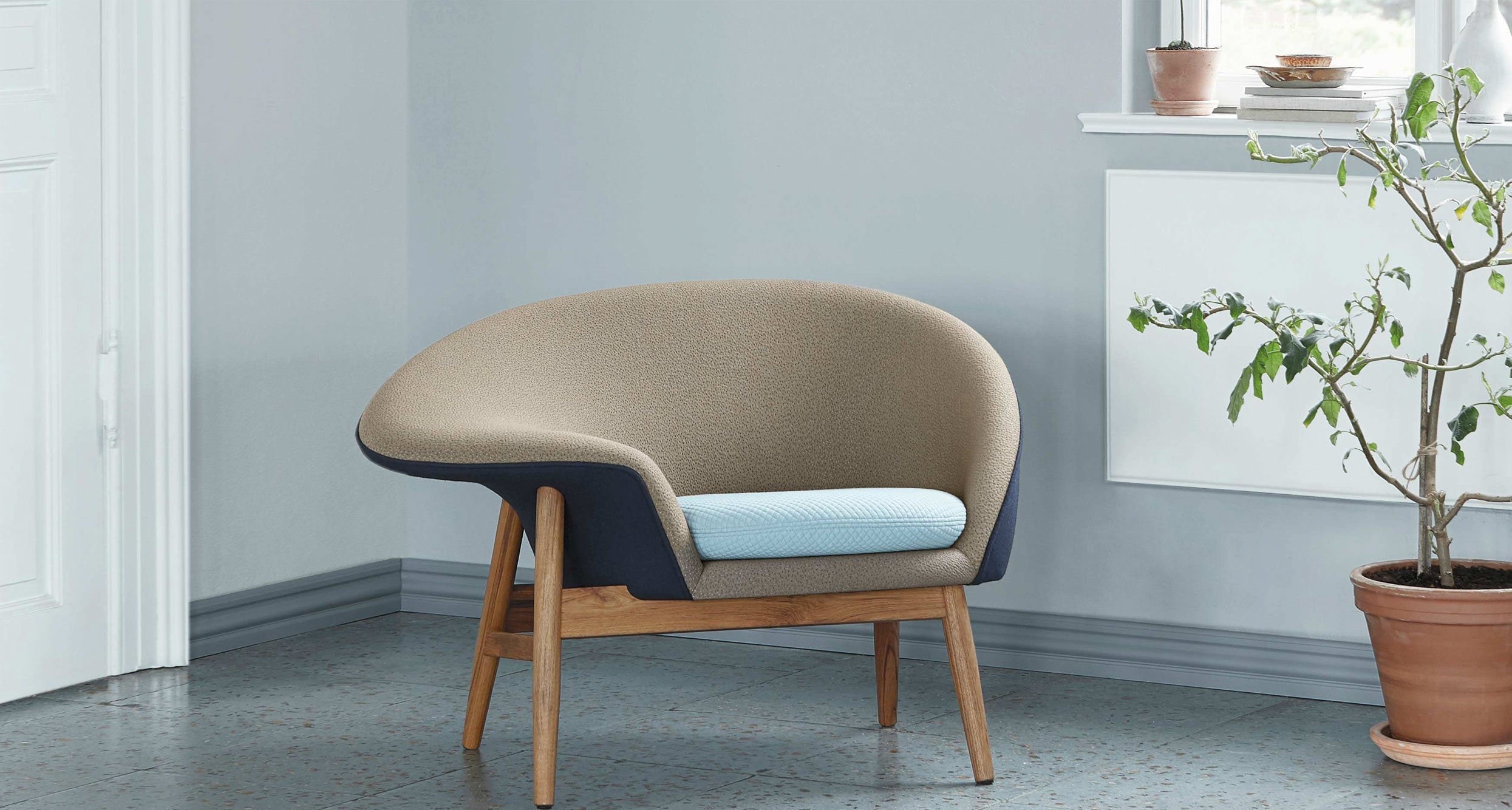 FRIED EGG CHAIR
The Danish designer chair Fried Egg was designed by Hans Olsen in the 1950s. The chair has a timeless and unique design with asymmetrical shapes and modern colours. At Warm Nordic, we sell the Fried Egg chair in a wide range of beautiful colors and unique upholstery, so you can be sure to find one that matches your personal interior design style. The Fried Egg chair is for you who appreciate Danish design and who want to add edge to the home.
Explore our universe of Hans Olsen's masterpiece and experience the wonderful color combinations and textiles. You will find Fried Egg in, among other things, sheep's wool, nubuck leather and canvas.
DANISH DESIGN CHAIR BY HANS OLSEN
The Fried Egg chair is a spacious and inviting chair, where comfort and quality are top notch. The nickname Spejlägget comes from the chair's characteristic shape with the round cushion when viewed from above. The chair has a flat and elegant armrest, which invites you to throw your legs over the side of the chair. You can buy the chair with left- or right-facing armrests.
Hans Olsen's eye for design is expressed in the iconic Fried Egg chair. It is uncompromising in terms of both comfort, functionality and aesthetics. It adorns every room in the home with the asymmetrical and characteristic shape that Hans Olsen managed to design in the 1950s.
CHOOSE BETWEEN SEVERAL COLORS AND MATERIALS
Fried Egg comes in a multitude of beautiful colors and materials. The frame is made of oiled, solid teak, which is a high-quality type of wood. You can find the chair in several variants with one, two or three beautiful colours. You can play with the beautiful upholstery in two-colour combinations and let the Mirror Laying express itself. You can also find combinations where the outside, inside and cushion are different colours, which also gives a completely unique play of colours.
No matter what your personal interior design style is, we dare to guarantee that you will find a Fried Egg chair that matches your wishes and needs. This applies whether you want a colorful chair with several color combinations or a more neutral chair with monochromatic upholstery. Not sure which color to choose? Then finally contact us and we will send you a free textile sample.
FIND CLASSIC DANISH DESIGN AT WARM NORDIC
At Warm Nordic, we offer a high-quality selection of iconic and remarkable designer furniture. In addition to Hans Olsen's chair, we also sell other design series such as Affinity by Halskov and Dalsgaard, Cape and Be My Guest by Charlotte Høncke.
We make a virtue of giving you a good experience when you shop for designer furniture with us. Our competent customer service is ready to give you expert advice if you have questions or need help. You can contact us by phone, email or by filling in our contact form. You will find our contact information at the bottom of the page here. We always endeavor to answer your inquiry as soon as possible.
If you need inspiration for your decor, we can also be found on social media, including Facebook, Instagram and Pinterest. Here you can immerse yourself in our fully-cast design universe every day and get inspiration to incorporate Warm Nordic into your interior design. We look forward to welcoming you to Warm Nordic!